What's the Best Way to Arrange Classroom Furniture?
As a teacher, it's your job to fill your pupils' heads with as much useful information by the end of the semester as possible. While the content of what you teach is the most important factor in determining your success, the way you arrange the desks can have a huge impact on your students' experience as well. Use this guide to help you arrange classroom furniture in away that's conducive to student learning and involvement.
The Best Way to Arrange Elementary School Classroom Furniture
While your preferred furniture arrangements may vary, most teachers agree that the days of lining up desks one by one in neat little rows are long gone. While this setup discourages talking and is effective for test taking, the benefits end there.
Instead of separating students, consider grouping desks in clusters of three to six. The larger the groups, the more desks you can fit in the room because you need fewer aisles between them. If possible, create other zones in your classroom—either permanently or temporarily, depending on the size of the room—for reading, lecturing, and group activities. Reserve desks for writing and completing assignments.
The Best Way to Arrange Middle School Classroom Furniture
In middle school, students move between classrooms throughout the day without a dedicated desk to call their own. Instead, they rely on lockers to store their books, binders, and backpacks. This creates some flexibility in arranging middle school classroom furniture.
One effective layout is a horseshoe or double horseshoe shape, depending on the size of your classroom and number of students. This setup allows everyone to face the front of the room, see each other, and engage in discussions while still focusing their attention toward the front of the room. It's also easy to push desks aside to create open floor space for group activities.
The Best Way to Arrange High School Classroom Furniture
In most high schools, student desks take up the majority of each classroom. Because lectures and teacher/student presentations usually comprise the bulk of high school curriculums, rows are often preferred over clusters. Also, small group projects are common, so the horseshoe shape is less conducive.
Because of these factors, high school desks are ideally arranged in rows of two or three. This way, everyone faces the front, pairs or threesomes are easy to form for group projects, and the arrangement is easy to set up and take down.
Arranging Classroom Furniture for Student Involvement
The traditional setup of lining up desks one by one to face the front of the classroom is the least effective way to get students involved with one another. To promote teamwork, you need the desks to face each other. As mentioned for elementary and high school classrooms, clusters and rows of two to three desks work well for pairing off or facilitating small group interactions. Then, the horseshoe arrangement, which is beneficial for middle schools, is suitable for large group discussions.
Don't be afraid to set up your furniture differently from what's recommended here based on the needs of your classroom and students. It's also acceptable to alter the setup mid-semester if things aren't quite working out.
If you are in need of new classroom furniture in the Maryland, Virginia, or Washington, DC area, give Zoom Inc. a call today at 301-299-7155 or contact us online!
Testimonials
Don't take our word for it; see what people are saying.
"Every day Zoom made my job so much easier and helped me get the hang of furniture buying. Zoom's knowledge and professionalism are absolutely the best I have witnessed in all my government years. Thank you so very much for your patience and help!" -
Read Testimonials
Differentiators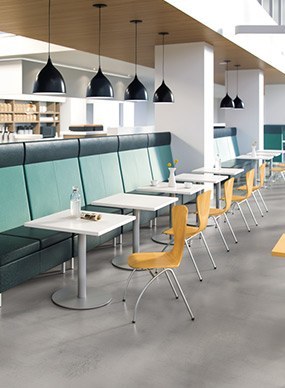 Why Zoom Inc.?
We offer you the best value solution because you will receive the best service. Our job is to make yours easier.
Services
From consultations and project management to specification and design, Zoom Inc. exceeds our clients' expectations.
Our Blog
Read about what is going on at Zoom Inc. and in the world of furniture.
Past Performance Projects
Zoom Inc. has provided exceptional turnkey design, manufacturing, and installation solutions to several federal and commercial agencies.