Products
BRCPC and MAPT Product Highlights
Zoom Inc. is a leading furniture supplier for businesses and organizations throughout Maryland, Washington, DC, and Virginia. Recently, we have been awarded the MAPT and BRCPC furniture contract, which allows us to offer exceptional discounts to state-funded institutions in the Mid-Atlantic region.
Below, we have highlighted educational furniture and government furniture that is BRCPC and MAPT approved. For a consultation, call the furniture experts at Zoom Inc.
Educational Furniture
ETHOS & ECHO Series by Haskell
About the product: 
ETHOS is more than a chair. This seating option provides flexibility and mobility for students and teachers in the modern classroom.  The ECHO series gives shape to the future of education furniture because of its mobility. It can also support many classroom arrangements with minimal effort. The chevron-shaped tables allow for many kinds of interactions that foster small or large group activities, and even individual work. ECHO meets the needs of educators and students in K-12 and higher educational learning environments. Call us today for a consultation!
Natural Wood Furniture by Angeles
About the product: 
For early learning, Angeles' Natural Wood Furniture provides solid hardwood and bentwood furniture to foster a range of activities, and come in a range of heights appropriate for different aged children
Horseshoe Shaped Activity Table by Correl
About the product: 
Correll tables are designed to withstand many different activities, with a high pressure laminate work surface that stands up to scratches, cuts, and stains. The legs are foldable for easy storage and mobility, and easily height adjustable. This product is great for daycare or school classroom environments!
 Rumba Collaboration Screens by Safco
About the product: 
Safco's Rumba collaboration screens are the ideal element for a flexible meeting space in an office, or a powerful teaching tool in K-12 or Higher Education environments. Complete with accessory hooks, aluminum base, magnetic capabilities, and option magnetic tray, this product is a perfect option for any classroom looking to conduct hands on learning.
Alpha Better Standing Desks by Safco
About the product: 
Safco's unique standing height desk brings all the known benefits of sit-to-stand work from the world of workplace design to classrooms. This creative desk can help students concentrate by allowing a range of postures while working which support their developmental needs.
Athena by Sitmatic
Athena by Sitmatic is perfect for classrooms, lecture halls, auditoriums, and more! This seating option provides dense learning solutions for focused learning in a small space.
Office Environment Furniture
Harmony by OCI
Harmony is a great lounge seating option that comes in one and three-seat options. This set comes in a variety of vinyl and wood finishes that will be sure to fit any reception area nicely.
Bond by Sterling Tree Studio
The Bond Series offers elegance and mid-century style to an office or waiting area. Sterling Tree Studio offers solid hardwood construction and tight upholstery for a durable and elegant piece of furniture that will support your organization into the future.
Monterey by Eurotech
As an option for administrators or office spaces, the Monterey mesh and fabric chair is an ergonomic task chair with a tilt lock, tension control, seat height adjustment, lumbar adjustments and more!
Anywhere Chairs by Sitwell
The "Anywhere" chair by Sitwell is a four-leg guest chair that stacks four high. It comes with a fabric seat, with a variety of back options including wood, fabric and plastic. With wall saver legs and the option of having casters, this chair is a versatile one that can make a great addition to any office or waiting room environment.
Testimonials
Don't take our word for it; see what people are saying.
"Every day Zoom made my job so much easier and helped me get the hang of furniture buying. Zoom's knowledge and professionalism are absolutely the best I have witnessed in all my government years. Thank you so very much for your patience and help!" -
Read Testimonials
Differentiators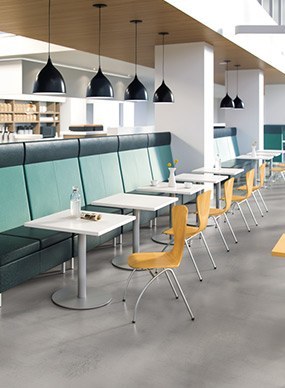 Why Zoom Inc.?
We offer you the best value solution because you will receive the best service. Our job is to make yours easier.
Services
From consultations and project management to specification and design, Zoom Inc. exceeds our clients' expectations.
Our Blog
Read about what is going on at Zoom Inc. and in the world of furniture.
Past Performance Projects
Zoom Inc. has provided exceptional turnkey design, manufacturing, and installation solutions to several federal and commercial agencies.