Education Furniture
Classroom Furniture in Washington, DC, MD, VA & Nationwide
From kindergarten to middle school, high school, and beyond, Zoom Inc. is a premier supplier of classroom furniture in Washington, DC, Maryland, Virginia, and nationwide. What's included in a learning environment is evolving. The classrooms students learn in are becoming more and more engaging, and the right educational furniture can support and enhance the versatility needed to create a welcoming learning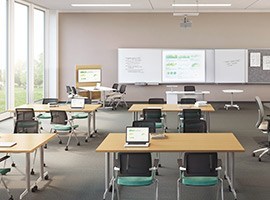 environment.
Teaching and learning can happen anywhere and at any age, and with high-quality, durable, educational furniture, we can help you transform your classroom from an average space to a conducive learning environment.
Contact us to schedule a free, no-obligation consultation for classroom furniture in Washington, DC!

Learn more about our:
Our Educational Furniture Products
At Zoom Inc., we've provided students across the world with new education furniture. We supply education furniture to all levels of schools—from Pre-K to colleges and universities! Some of our products include:
Student desks
Tablet arm chairs
Reception furniture
Cafeteria tables and chairs
Stacking chair
Folding chairs
Folding tables
School chairs
Activity tables
Office chairs
And more!
Sustainable Education Furniture
Educators across the country must adapt to the changing landscape of schools in the U.S. From elementary teachers with limited resources due to budget cuts to professors at public universities receiving less federal and state funding, installing sustainable furniture could be the key to your long-term budget constraints.
At Zoom Inc., we strive to provide our clients in the education sector with sustainable classroom furniture in Washington, DC that will last for years to come. We know how much of a beating some classroom furniture can take throughout its lifespan—from food and beverage spills to simply withstanding years of use by the student body—our education furniture will withstand its rigorous use.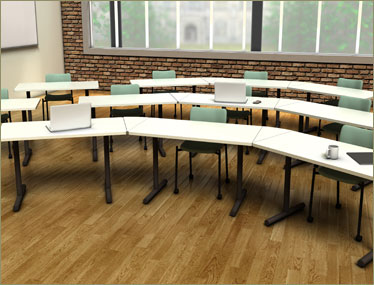 Proper classroom furniture ergonomics like articulating chair backs, rolled-edge seat fronts, and larger tablet arms facilitate a comfortable, engaging learning environment for students of all ages.
Interior Design/Space Planning for Schools & Universities
When designing a safe place for students to learn, functionality and efficiency are the two most critical aspects of the design process. Institutional interior designers focus on projects such as classrooms, recreational facilities, libraries, auditoriums, gymnasiums, and more!
Learn more about our interior design and space planning services for schools and universities.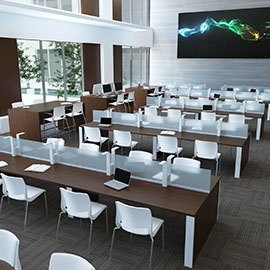 Why Call Zoom Inc.?
For more than 10 years, Zoom Inc. has been the education furniture dealer of choice throughout the Mid-Atlantic, including Maryland, Washington, DC, and Virginia, and nationwide.
We combine our interior design and space planning expertise with a vast selection of education furniture from popular brands, including Egan, Baltix, Mecho Shades, Workrite, Nessen Lighting, Furniture Lab, Systematix, Polyconcepts, and Swift Space to meet and exceed your furniture needs.
Find Classroom Furniture in Washington, DC
For high-quality classroom furniture in Washington, DC at a price you can afford, contact Zoom Inc.!
Popular manufacturers of education furniture we work with:
Testimonials
Don't take our word for it; see what people are saying.
"Every day Zoom made my job so much easier and helped me get the hang of furniture buying. Zoom's knowledge and professionalism are absolutely the best I have witnessed in all my government years. Thank you so very much for your patience and help!" -
Read Testimonials
Differentiators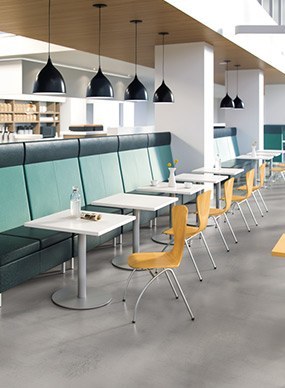 Why Zoom Inc.?
We offer you the best value solution because you will receive the best service. Our job is to make yours easier.
Services
From consultations and project management to specification and design, Zoom Inc. exceeds our clients' expectations.
Our Blog
Read about what is going on at Zoom Inc. and in the world of furniture.
Past Performance Projects
Zoom Inc. has provided exceptional turnkey design, manufacturing, and installation solutions to several federal and commercial agencies.