Commercial Office Chairs
Task Chairs for Offices, Healthcare Facilities, Government Agencies, Educational Buildings & More!
Zoom Inc. offers many task chairs and office chairs to guarantee the best value, comfort, and functionality for our clients. Offering office chairs from reputable manufacturers throughout the U.S., we will surely find office chairs that fit your budget and office.
We proudly serve businesses and organizations throughout the Mid-Atlantic, including Virginia, West Virginia, Maryland, and Washington, DC. Contact a Zoom Inc. furniture professional at 301-299-7155 or contact us online for a free quote!
Office Chairs for Any Office Environment
Zoom Inc. specializes in workplace furniture and has a knowledgeable team that can help you select the perfect office chair for your specific environment. Our large selection of office furniture manufacturers we work with allows us to provide a wide selection of styles and functions when it comes to ergonomic office seating. Our chairs come with different options to allow for breathable mesh, lumbar support, upholstered fabrics, and different bases. Caster base and swivel chairs allow for greater mobility and provide a multi-functional chair that doubles as a conference chair or can be scooted to a nearby table for an informal meeting.
Office Chair Styles
There are many styles of chairs to choose from when purchasing new office chairs, including:
Task stools – task stools give you the freedom to move from a seated position to standing at your desk and improve your posture and health as you work.
High back chairs – these office chairs can help delineate hierarchy in an open-plan office, while allowing for continuity in furniture.
Heavy-duty seating – this type of chair supports a wide range of users with structural integrity, including a tilting mechanism and lumbar support that can improve your performance on everyday tasks while providing the ergonomic support that your body needs.
---
---
Brands of Office Chairs
We offer a variety of different chairs that fit any office. Check out some of our chairs below or give us a call to learn more how we can meet your office furniture needs!
Eurotech – Ergohuman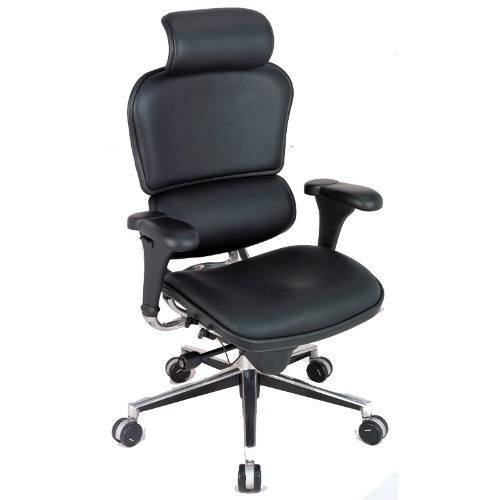 The LEM4ERG Raynor Ergohuman Chair is an ideal option for workplace comfort and support throughout the day. With a comfortable upholstered foam seat and mesh back and headrest, this chair ensures comfort for users who work continuously for more than five hours.
Features:
Chair is available with a high back, padded black leather seat, and black mesh seat back and headrest.
Back angle can be adjusted with a three-position tilt-lock; the chair can be locked back into place in one of three pre-configured positions. Otherwise, the tension control adjustment can be used to control the amount of force to recline or sit up straight.
Chair is quickly lowered or raised with a pneumatic cylinder.
Back, seat cushion, and headrest are all adjustable to fit specific user needs.
Contoured lumbar support is available.
Seat depth adjustment and synchro-tilt mechanism provide a correct seating position for a range of users.
There are pivoting, height-adjustable, armrests.
 Open Plan – B8 Engage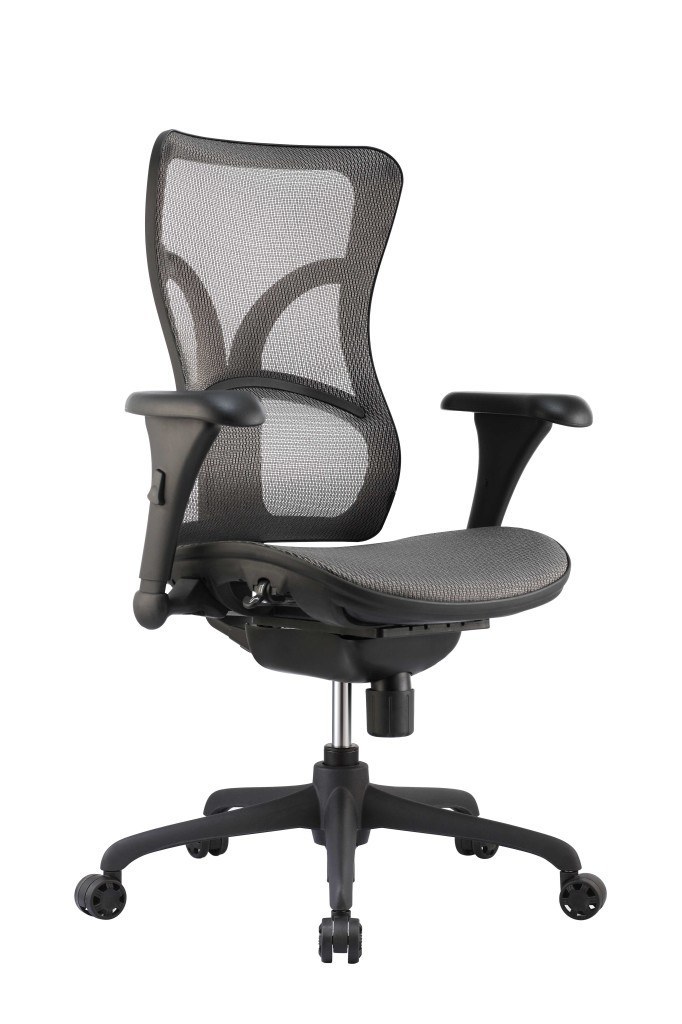 The B8 Engage has all the features of an ergonomic chair at a competitive price point. This chair is available with mesh seat and back, breathable fabric, back support, and adjustability.
Features:
The arm pads adjust in four directions (in/out, up/down).
The backrest has three adjustment angles: 90, 100, and 110 degrees.
The back adjustment is moveable with a ratchet feature.
Seat height can be adjusted, as well as seat tensions for optimum comfort.
Seat depth can be adjusted with a seat slider.
Ignition Task Chairs by Hon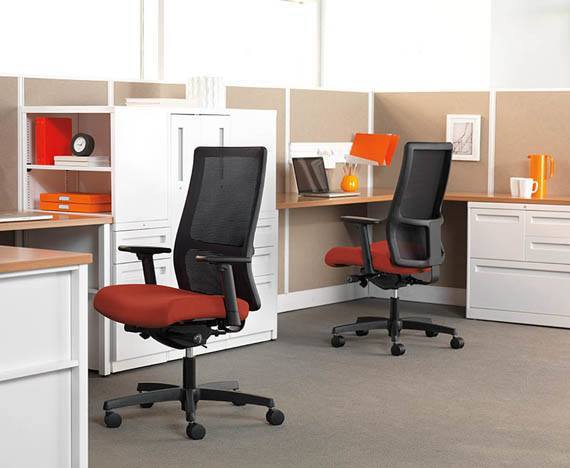 Hon's Ignition task chair line is flexible for day-to-day tasks and durable for future uses. The full Ignition family includes task chairs, task stools, and side chairs, allowing you to outfit an entire space with the level of performance and comfort needed in today's work environment.
Its human-centered design accommodates a variety of users and preferences, including three back sizes and an upholstered or mesh back. The Big and Tall office chair supports up to 450 pounds, and the bariatric chair up to 500 pounds.
Boss & BigBoss Office Chairs by Sitmatic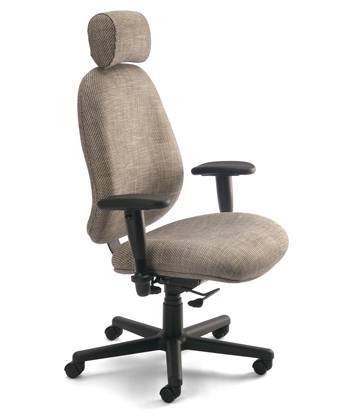 Features:
Heavy-duty construction – designed for longevity and day-after-day use, the Boss office chairs feature a heat-treated alloy in the large backrest and are guaranteed unbreakable.
PressureCast foam – PressureCast foam keeps the original look of your Boss office chair throughout its entire lifetime and keeps you comfortable all day long.
Exceptional lumbar support – the lumbar bolster and accurate back and seat contours provide the proper torso support for comfort throughout the entire workday.
Easy-ratchet back – the ratchet back is one of the simplest and ergonomically friendly ways to adjust lumbar height, featuring eight positions over a four-inch range.
Seamless, intensive-use base – a five-star base ensures maximum safety for this office chair. A single-welded base results in fewer breaks.
Boss and BigBoss – the BigBoss task chair comes in two options for an even more heavy-duty option.
Focus Office Chairs & Task Stools by SitOnIt Seating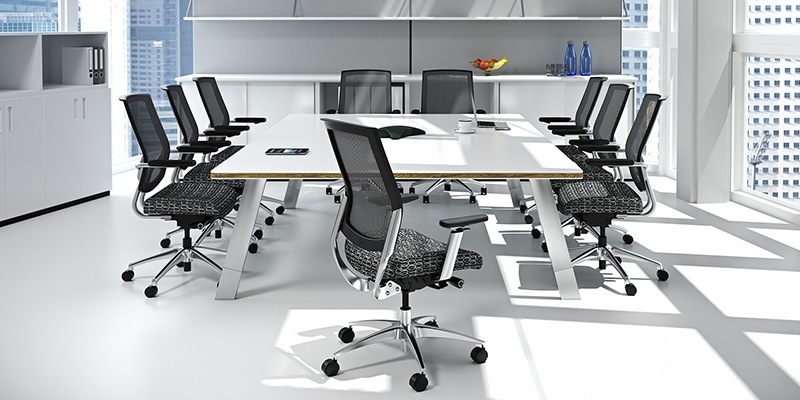 The Focus work chair and task stool are a supportive and durable companion for your workplace environment. The mesh back is complemented with a unique Y-shaped, sculpted back support, and integrated lumbar.
Features:
Ergonomic back support and comfort.
Midback and highback.
Backs available in upholstery, mesh, or plastic.
indifferent color options (three solid mesh colors and two sport striped patterns).
Adjustable lumbar support.
Five arm styles featuring standard or sport arm pads.
Black and/or silver accents.
Waterfall seat design.
Optional sports casters.
A lifetime warranty.
350-pound weight capacity.
Strata Office Chairs by 9 to 5 Seating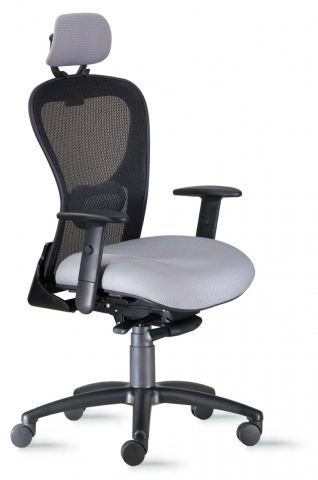 The Strata line of office chairs are designed for managerial and executive applications or for everyday use. These extra comfortable chairs mold to your back and are adjustable for depth and height so you receive optimal support. The Strata office chairs feature Ura-Soft® adjustable arm pads, height adjustment, and swivel pads.
Features:
1,000 textiles or select your own fabric to upholster.
Waterfall seat front for great circulation and good health.
Shipping within 48 hours for all mesh and grade A fabrics.
Lifetime warranty on all structural and mechanical components. Mesh, fabric, and foam are warranted against wear-through and deterioration for five years.
Cast aluminum base with powder coat finish.
Elite EE Series Task Chair by BioFit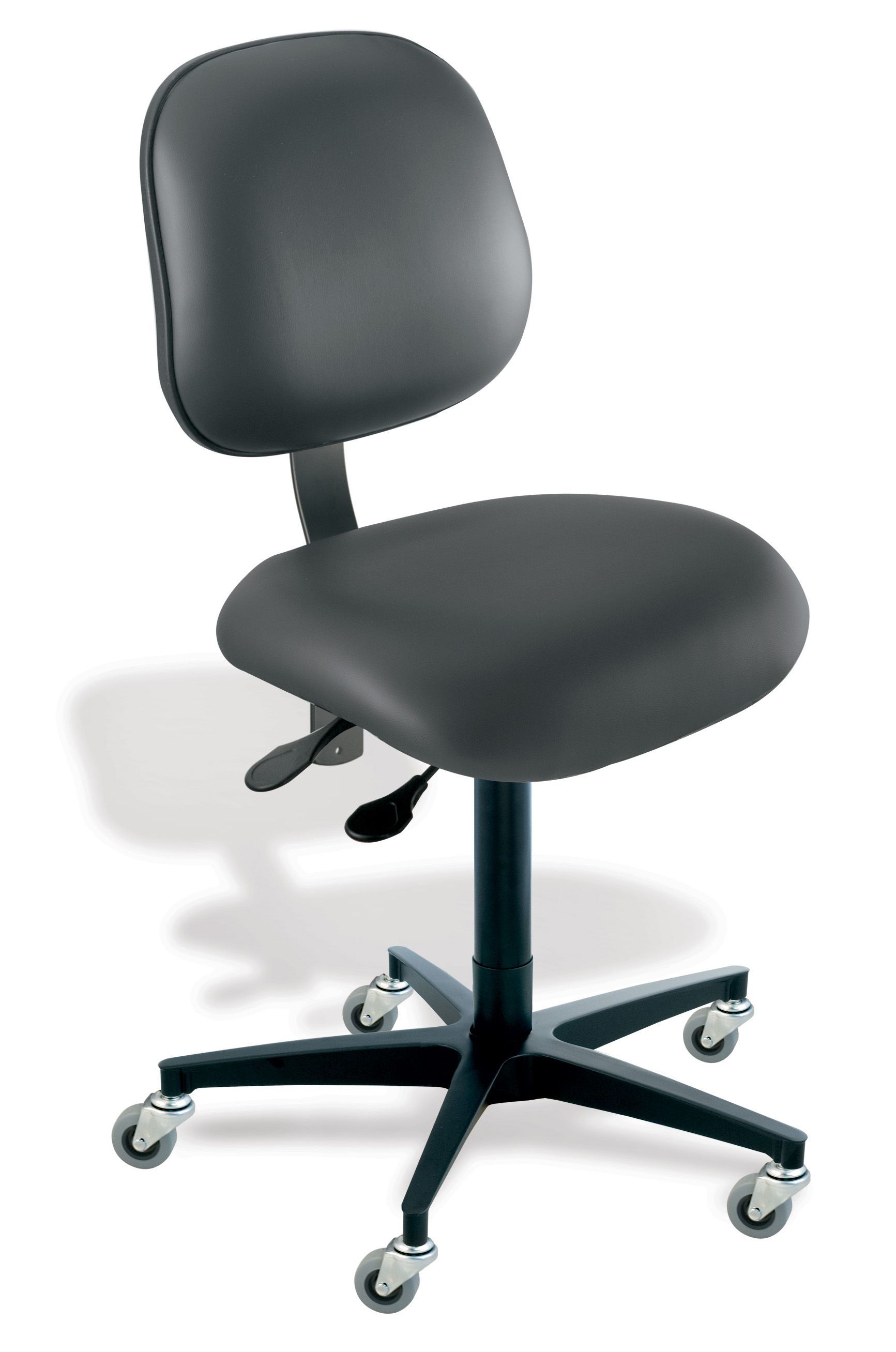 The Elite EE Series office chairs from BioFit features a functional design, making it ideal for any workspace, including government agencies and offices.
Features:
18½" wide x 17″ deep x 3″ thick waterfall style front seat design with four-way contouring.
Full lumbar support.
Soft-touch pneumatic seat-height adjustment.
Rearward seat tilt.
Backrest tilt and height adjustment.
Optional: Static Control seating with ESD upholstery—Clean Room rated to Class 1/ISO Class 3.
Speak to a Zoom Inc. Representative Today!
Zoom Inc. offers office chairs for businesses and organizations in many industries, including:
Contact a furniture representative today to get a quote>>
Zoom Inc. not only offers remarkable seating, but we offer an array of furniture for any need. View the rest of our furniture products here!
Testimonials
Don't take our word for it; see what people are saying.
"Every day Zoom made my job so much easier and helped me get the hang of furniture buying. Zoom's knowledge and professionalism are absolutely the best I have witnessed in all my government years. Thank you so very much for your patience and help!" -
Read Testimonials
Differentiators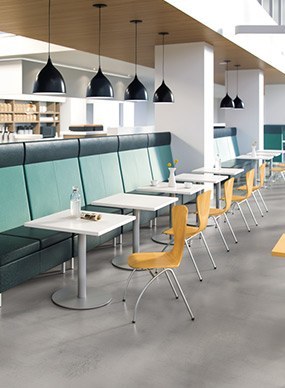 Why Zoom Inc.?
We offer you the best value solution because you will receive the best service. Our job is to make yours easier.
Services
From consultations and project management to specification and design, Zoom Inc. exceeds our clients' expectations.
Our Blog
Read about what is going on at Zoom Inc. and in the world of furniture.
Past Performance Projects
Zoom Inc. has provided exceptional turnkey design, manufacturing, and installation solutions to several federal and commercial agencies.