Furniture Dealers in Maryland, Washington, DC & Virginia
---
Outfitting Offices, Government Offices, Healthcare Facilities, Educational Buildings & Commercial Spaces with Beautiful, Modern Furniture!
Whether you're looking to give your office the makeover it deserves or simply need to upgrade the existing furniture in your organization, Zoom Inc. is here to help! We are one of Washington, DC's premier furniture dealers supplying workstations and cubicles, desks, chairs, waiting room furniture, and more throughout the Mid-Atlantic. We also offer interior design services and space planning for those looking to maximize their existing floor space and increase productivity.
Located in Rockville, Maryland, our furniture dealership carries:
Contact us to schedule a free, no-obligation consultation or click below to learn more about the industries we service and how we can outfit your offices to improve their design and overall aesthetic and to create a functional workplace for you and your employees.
Click below to learn more about our furniture solutions!
Business, Government, Healthcare, Education & Hospitality Furniture »
Furniture Supplier for Healthcare Organizations
Your healthcare facility should be a place where patients, families, and employees feel safe and comfortable. At Zoom Inc., we work with a variety of furniture suppliers to offer a vast product line designed specifically for healthcare facilities, including hospitals, physical therapy clinics, rehabilitation facilities, doctor's offices, pediatricians, specialty doctors, and more!
We offer the following healthcare furniture products:
Tables
Chairs
Sofas
Beds
Ottomans
Dining tables
Dining chairs
Benches
Folding chairs
And more!
View our full line of products here »
Furniture Dealer for Schools & Universities
From elementary schools to high schools, community colleges, and four-year universities, Zoom Inc. is the premier furniture dealer for educational buildings and classrooms in the Mid-Atlantic, including Maryland, Washington, DC, and Virginia. Our selection of classroom and educational furniture includes, but is not limited to:
Student desks
Teacher desks
Tablet arm chairs
Table and chair sets
Reception furniture
Cafeteria furniture (tables and chairs)
Stacking chairs
Folding chairs
Folding tables
School chairs
Activity tables
Office chairs
And more!

Government Furniture
Zoom Inc. is the trusted choice for government furniture in the Washington, DC area. Our workplace furniture for government offices and buildings—including products designed for the federal government, state governments, and local governments—is available for throughout Maryland, Virginia, Washington, DC, and the entire Mid-Atlantic region.
We offer a broad range of workstations, cubicles, desks, seating, tables, and storage for all types of environments. Not to mention, we are a whole-room package GSA (General Services Administration) contract holder working alongside the federal government to meet their furniture, design, and installation needs. When you choose Zoom Inc. as your government furniture dealer in the Maryland, Virginia, or Washington, DC area, you could receive discounts ranging from 10 – 68 percent (depending on manufacturer base and tiers).
GSA Contract
FSC: Group 71, Packaged Furniture GS-28F-0018V
SINS: 71, 71-1, 711-91, 71-100, 71-101, 71-102, 71-203, 71-200, 71-315
FSC: 7110
DUNS: 19-409-2313
Cage Code: 43AH2
TIN: 20-2345463
Zoom Inc. was also awarded the NAVY BPA (Blanket Purchase Agreement) and offers the best-valued solutions while building honest and strong partnerships with the Department of the Navy. All purchases must be made in accordance with the terms of your BPA contract.
BPA Contract
BPA Number: N00189-11-A-0020 (period of performance – 06/01/2011 through 05/30/2016)
Call Limit: Delegated Procurement Authority
Federal Supply Schedule: GS-28F-0018V (period of performance – exp. 02/21/2019)
Interior Design & Space Planning Throughout the Mid-Atlantic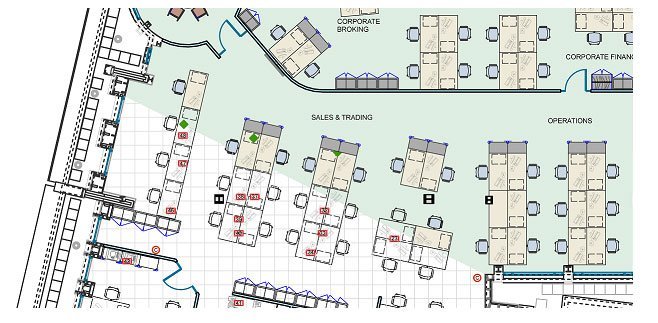 Our team of dedicated interior designers starts your project off right and sees it through to the very end—finishing on-time and on-budget. Our experience in specifying functional and suitable furniture informs the suggestions we make as we work with you to select the right furniture for your needs.
We create 3D floor plans to help you visualize your new space and what your new layout will look like. Our commitment to providing you with cost-effective and creative solutions ensures your floor space is functional, appealing to visitors, and maximizes employee productivity. Our line of interior design and space planning services in Maryland, Virginia, and Washington, DC includes:
Office space planning and design (including state, federal, and local government municipalities)
Hospital and medical center planning and design
Reconfiguration design
School and university planning and design
Café planning and design
Power and data schematics
CAD drawings
And more!
Why Call Zoom Inc.?
For more than 10 years, Zoom Inc. has been the furniture dealer of choice for schools, government officials, and healthcare providers throughout the Mid-Atlantic, including Maryland, Washington, DC, and Virginia.
Our selection of furniture includes a wide variety of popular furniture brands, including Egan, Baltix, Mecho Shades, Workrite, Nessen Lighting, Furniture Lab, Systematix, Polyconcepts, Swift Space, and much, much more!
From high-end office furniture to budget-friendly furniture solutions, call Zoom Inc. We'll be happy to help you meet your furniture needs!
Contact Us to Schedule a Free Consultation!
Give us a call to speak to one of our furniture experts or contact us online to schedule a free, no-obligation design and furniture consultation—877-244-1210!

We offer you the best value solution because you will receive the best service. Our job is to make yours easier.

From consultations and project management, to specification and design Zoom exceeds each of our clients expectations.

Read about what is going on at Zoom and in the world of furniture.
Zoom has provided exceptional turnkey design, manufacturing, and installation solutions to several Federal and Commercial agencies.