Most Popular Furniture for Cafes and Restaurants
If you are planning to start a café or restaurant, you will want to create an environment that guests will love to return to. Whether you are starting a cozy bed and breakfast in Virginia or a swanky DC bar, you will need to achieve a very tailored ambiance that will make your guests feel exactly the way you want them to.
One of the most important factors in creating a custom environment is the furniture you choose. However, with so many options available, you may be overwhelmed and not know where to begin on your quest to find the best café or restaurant furniture. Below are a few of the most popular brands we've seen restaurant and café owners choose.
Allermuir
Allermuir's furniture is a popular choice for restaurant owners because it is incredibly innovative and unique, giving each environment it graces a distinctly peerless vibe. Allermuir offers chairs, stools, tables, soft seating, and sofas that are true originals. To ensure freshness in its products Allermuir works with designers from all walks of life, who all bring diverse perspectives and inspiration to their designs.
The furniture Allermuir produces is not only beautiful, but functional as well. The craftsman at the company have a complete understanding of how people sit, move, and interact with furniture, and they use that expert knowledge to produce furniture that is ergonomic.
Perhaps best of all, Allermuir furniture comes with Right the First Time and Zero Defect policies. Their products are tested for structural strength and durability with procedures that exceed industry testing standards. You be confident that if they're ready to sell a product, it's sure to satisfy.
AGATI
AGATI's furniture is just as versatile as it is durable. Whether a coffee shop or grand dining hall, AGATI has the perfect furniture for any restaurant or café setting. The manufacturer's style is extremely contemporary, and its products range from upholstered lounge pieces to commercial stools and benches. AGATI furniture is uniquely adaptable, while always maintaining quality and style.
One feature that sets AGATI furniture apart is the option to modify the design of its standard furniture collection to match the architectural message a patron needs. Their extensive custom capabilities set them apart if you are looking to customize your restaurant or café with a truly unique atmosphere.
Aceray
Aceray offers commercial-grade, contemporary and classic seating options that are guaranteed to stand out. The manufacturer's distinguished styling is a result of its ability to uncover the hidden talents of designers from around the globe. Aceray sponsors up-coming designers and helps them realize their visions to give restaurant and café owners interior design options that no one else has access to.
Ranging from outdoor seating and tables to lounge furniture, Aceray products are singular in that they are made in factories with stringent air emissions and waste discharge codes. All wood components, polypropylene and metal frame products are 100% recyclable, and the furniture is also made with:
Low formaldehyde emissions
Water based finishing systems
Recyclable materials
FSC certified lumber
If you are looking for furniture that reflects your café or restaurant's commitment to environmental friendliness, Aceray is your best option.
If you are a soon-to-be restaurant or café owner in MD, DC, or VA, and want access to all of these best brands for restaurant and café furniture and even more, contact Zoom Inc. for a free consultation today!
Testimonials
Don't take our word for it; see what people are saying.
"Every day Zoom made my job so much easier and helped me get the hang of furniture buying. Zoom's knowledge and professionalism are absolutely the best I have witnessed in all my government years. Thank you so very much for your patience and help!" -
Read Testimonials
Differentiators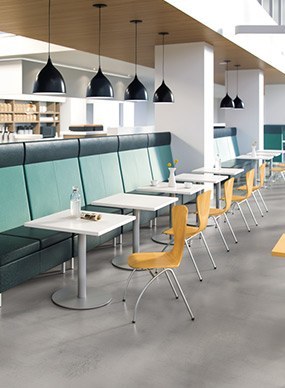 Why Zoom Inc.?
We offer you the best value solution because you will receive the best service. Our job is to make yours easier.
Services
From consultations and project management to specification and design, Zoom Inc. exceeds our clients' expectations.
Our Blog
Read about what is going on at Zoom Inc. and in the world of furniture.
Past Performance Projects
Zoom Inc. has provided exceptional turnkey design, manufacturing, and installation solutions to several federal and commercial agencies.